In late 2021, Westlife gave their first online concert via WeChat, the ubiquitous social network in China – the concert was watched by 28 million people and received nearly 160 million likes.
However, achieving this kind of success in China has for a long time been out of reach for even the most high-profile celebrities and artists more accustomed to US and European audiences. There are often limitations with regards to social media, access to information, and the tools and networks used in the US are different from those in China – and of course, there's a significant language barrier.
This is where East Goes Global (EGG) comes into play. Their specially designed platform forms the basis for world-renowned brands and individuals to enter the promise of the Chinese market. Together, EGG and Qubika worked on taking the platform to the next level, focusing specifically on their clients' needs and wants. Today, the platform is used to conquer social networks such as Weibo, Douyin, NetEase, QQ, and KuGou. They work together with bands such as Westlife, celebrities such as Will Smith, as well as major sports teams, e-sports players, and YouTubers.
Their platform enables artists to enable, establish and manage their brand presence, as well as create powerful marketing strategies at a local level. In turn, this opens up new branding and sponsorship opportunities. And they do all this with all the associated metrics, enabling artists to see the impact they are having. In this article, we want to share some of the details about how we set about building EGG's digital platform and the success it is having.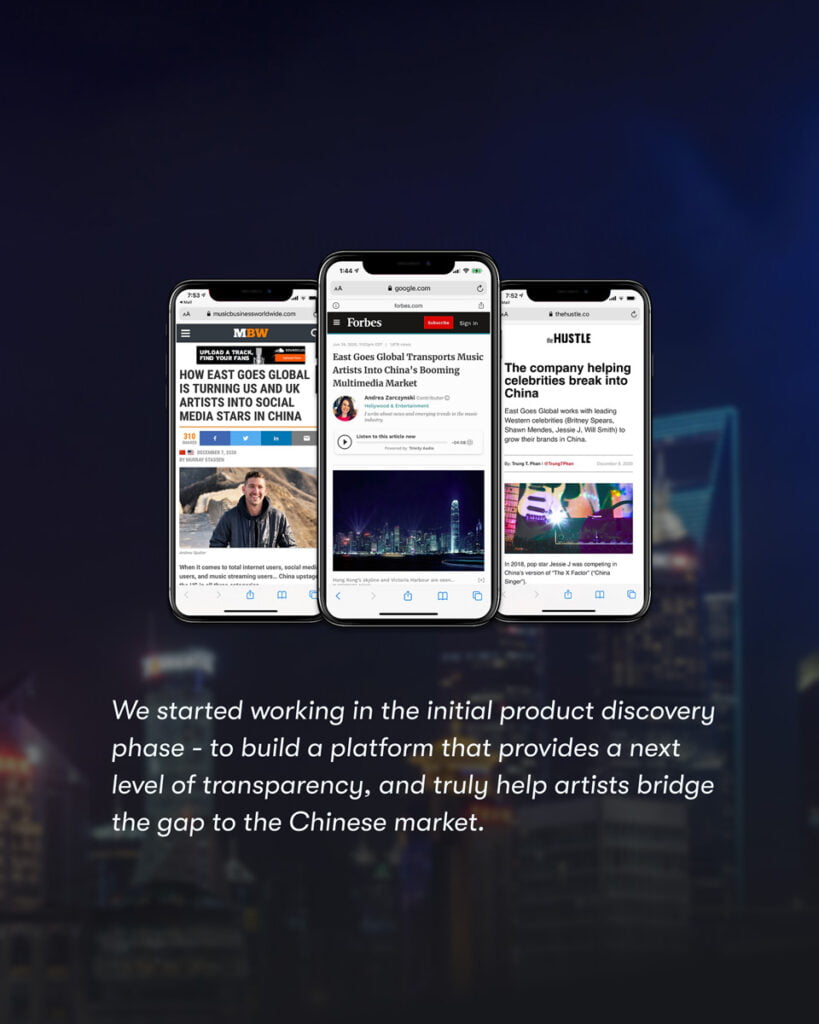 How it started
We started working with EGG in an initial product discovery phase to take their existing platform to the next level. They had the vision of a "dream platform" that would provide much greater transparency, and remove the veil of the Chinese market. This would then truly help "bridge the gap".
Our team started with a product discovery process – this is where we take the time to sit down and understand in depth the vision and set the foundations. Put simply, setting the foundations means building the right product for the right audience. We realized the importance of having an easy-to-use dashboard so that artists and brands (and their management) can clearly see the impact they are having, such as the top posts, likes, impressions, and most engaging content.
The role of Qubika's Studios in building the product
Our Product Management, and Product Design studios came together to create a multi-disciplinary team of experts who could provide the expertise and insight to build the platform.
This team took the initial version of the platform and then re-worked it – establishing the right connections between the different sections of the platform, and focusing on building a highly user-centric experience. The high quality user experience was critical, so that media and PR teams can easily access and view all relevant information.
Where we go from here
We continue to work together to build more functionality and features into the platform. Going into 2023, we're looking to provide more purchasable options for customers that want specific details – which in turn will provide an additional revenue stream for EGG. Doing this will require a mixture of backend and frontend expertise, mixed with the appropriate payment structure.
Seeing EGG's success with some of the world's most famous artists, and in turn, seeing their own success in China, is a source of tremendous pride. Their work is providing the basis for fans from across China to enjoy and interact with celebrities and music artists.
Learn more about our work here.