A year ago we wrote about how telehealth applications were reshaping the US healthcare ecosystem. Driven by the rapid increase in telehealth consultations during the Covid-19 pandemic, we saw for the first time adoption reach a significant proportion of Americans.
This transformation went beyond just making healthcare more accessible to individuals, via telehealth for example, but also an acceleration of the broader transition to patient-centricity and a more consumer-focused approach. These trends were already underway, but rapidly increased over the course of the past couple of years. One simple example is the use of "virtual waiting rooms" or "virtual queues" which help streamline the process of managing in-person visits to a hospital or physician.
Primary care changes are a key driver to healthcare disruption
Many new healthcare entrants in recent years have focused on offering new primary care solutions – the point at which individuals usually first enter the healthcare system. By making access to primary care easier and more affordable, people are able to receive earlier diagnoses and a greater emphasis on preventative care. These new entrants range from Amazon (Amazon Care) to Walgreens. Indeed, just a few weeks ago Amazon acquired the tech-focused primary care provider One Medical for $3.9 billion – crucially including the technology to enable virtual doctor visits.
These new entrants threaten long-term disruption to the healthcare industry as they bring in consumer focused technologies. At the very least, their increased focus on the consumer experience, particularly compared to traditional healthcare providers, will spur a shift to providing better experiences. And while high profile new technologies, or combinations of technologies, such as the metaverse may well gain column inches in the press, realistically we believe creating simple, efficient channels with which people can contact the key organizations and individuals in their own journey through the healthcare ecosystem will be the most transformative.
Bringing together the different components of telehealth applications
In our article last year, we identified the main components of telehealth applications: from the frontend which needs to ensure availability, usability, and reliability – to the backend component of the platform which will run on secure servers and is responsible for the storage and transmission of protected health information (PHI).
Blending these different components together into an application that also overcomes challenges with platform interoperability, data security, and customer privacy, represents a significant endeavor.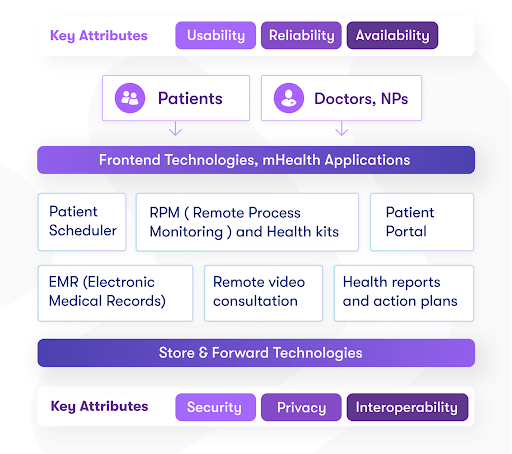 So this framework is not just useful specifically for telehealth applications, but also more generally for digital front door solutions. One of the major challenges for healthcare organizations is that, too often, their current methods for engaging with people digitally are via their website, or perhaps a mobile application. While this is a good first step to improving access, many fail to provide the high quality user experience that people have come to expect from digital services – the research company Forrester, in their "Customer Experience Index" found that health insurers were almost all in the "poor" category back in 2016, and since then, although there have been improvements, most are just in the "OK" category.
The importance of improving the user experience is highlighted in particular by the shift towards delivering healthcare within people's own homes, rather than attending a clinical setting. Forrester Research, has argued that the home will indeed become the principal care setting, with hospitals being relied on for more invasive care. They estimate that by 2029, "29% of evaluation and management visits will be delivered in a virtual care setting".
Digital first strategies will be critical in 2023 and beyond
The Covid-19 pandemic was the spur to drive digital innovation and a more "touchless" healthcare experience. As we move forward, we expect to see two main priorities for the digital side of healthcare: 1) An ever-greater focus on the user/patient experience and 2) A streamling of the patchwork of technologies and solutions, many of which were put in place rapidly during the early stages of the pandemic. This streamlining will help healthcare providers deliver better, more personalized and patient-centric care.